Cost of Living In Medellin: How Cheap is Colombia?
Get our free email course, Shortcut to Conversational.
Have conversations faster, understand people when they speak fast, and other tested tips to learn faster.
More info
Medellin is the second-largest city in Colombia and fast becoming a new home to many foreigners who have discovered that the "City of Eternal Spring" is one of the best-kept secrets in Latin America. There's no doubt that the low cost of living in Medellin is one of the main reasons why digital nomads, expats, backpackers, and retirees are flocking to Medellin.
In this post, we will give you an overview of what you need to know about the cost of living in Medellin, as it relates to:
Accommodation in Medellin
The price of accommodation will be largely dependent on two factors.
The location
Where or how you find a place
Let's talk about location first.
Best Neighborhoods in Medellin
Before diving in, we should point out that any neighborhood we mention here is generally considered safe.
Of course, like any big city, you need to keep your wits about you. Just make smart decisions and you should be fine.
Getting drunk and walking home at 1am is a bad idea.
Getting drunk and ordering an Uber from the bar at 1am is a good (or least better) idea.
You get the point.
Moving on.
Laureles
The BaseLang Medellin Spanish school is located in the Laureles neighborhood, which has a reputation among expats as being a more authentic side of Medellin, in comparison to El Poblado, which is where the majority of tourists and expats stay.
This barrio (Spanish for "neighborhood") is a quiet residential area, which makes for a more laid-back atmosphere in comparison to other parts of the city. The streets are flat (not common in Medellin), which makes everything within walking distance. You might be cautious about the idea of staying in an area that is "too" quiet, but the truth is that Laureles has everything you need for day-to-day living, with cafes on every corner, and top class restaurants at your fingertips, several supermarkets and anything else that you can think of.
Ironically enough, Laureles's reputation as being more Colombian means that more and more foreigners are choosing to live in this area of town, but don't worry, it's still not nearly as crowded with foreigners as the likes of El Poblado.
PS. If you want to learn Spanish in Medellin, then you can find our Spanish school in the heart of Laureles.
Estadio
The Estadio neighborhood is located right next to Laureles and shares many of the same attributes, although Estadio can be considered the loud neighbor since it's where you'll find a ton of bars and clubs on the famous La 70 street, which is perfect if you're looking for an authentic Colombian night out. Estadio, which is Spanish for "stadium", is where Medellin's most popular football (soccer) teams, Atletico Nacional and Independiente Medellin, play on a weekly basis.
Although Laureles is considered a little more upscale than Estadio, prices in both neighborhoods are similar.
Typical housing costs (including bills) for Laureles or Estadio are:
$500-800+/month for a 1 bedroom studio-apartment, depending on how nice you go
$200-$300/month for a private bedroom in a shared apartment
$10/night for a dorm bed in a hostel
El Poblado
This Medellin neighborhood is by far the most popular area to stay for tourists and most expats, since it's where you will find the best nightlife that Medellin has to offer, as well as the majority of the best restaurants in the city (including nearly all of the upscale ones). As a result, the majority of hostels and hotels are also located here, which means that many people who pass through Medellin never experience anything outside of El Poblado (also known as the "Poblado bubble" for obvious reasons).
There are various areas to El Poblado, which each offer a slightly different experience. Provenza and near Parque Lleras is a bit louder, but is right next to all the restaurants and nightlife, as well as some of the best cafés. A bit further south, closer to Santafe mall, is a little bit more quiet, and a bit more upscale.
You can expect to pay higher prices for just about everything in El Poblado, including accommodation.
Typical housing costs (including bills):
$1000-1200/month for a 1 bedroom studio-apartment
$400-$500/month for a private bedroom in a shared apartment
$10-$12/night for a dorm bed in a hostel
Other Neighborhoods in Medellin
In our experience, most expats tend to stay around Laureles, Estadio or El Poblado.
However, if you feel like exploring, then below are three neighborhoods that deserve an honorable mention.
Ciudad Del Rio: An up and coming neighborhood in between Poblado and Centro (centro is where you definitely don't want to live, as it's the most dangerous neighborhood in the city) that has undergone a lot of development in recent years. Its notable highlights include Mercado Del Rio food hall (a must-visit), the Modern Art Museum, and Tres Cordilleras brewery – if you are a lover of craft beer. If you stay in this area, then you'll probably have the advantage of being close to the "industriales" metro stop.
Belén: A neighborhood located right next to Laureles, just to the south/south-west. If you want cheaper accommodation and a more authentic Colombian experience, then you may wish to consider this barrio. Depending on which part of Belén you choose to stay, you can be just as close to Laureles as Estadio is.
Envigado: The safest neighborhood in the city. It's quiet, beautiful, and very local, while still being one of the nicest places to live in town. Although this neighborhood is located right next to El Poblado, Envigado is technically a different city to Medellin. The one complaint some people have about staying here is that everything seems far away (except for El Poblado), and getting to the metro can be a trek in itself.
Typical housing costs (including bills) for the above areas:
$500-$800/month for a 1 bedroom studio-apartment
$200-$300/month for a private bedroom in a shared apartment
$10/night for a dorm bed in a hostel (not a ton of hostels in these areas)
Where To Find Accommodation in Medellin?
We already covered the first factor which will influence the cost of your accommodation, and that is the location.
The second deciding factor is how or where you find a place.
As with most cities, the more homework you do to find a place, the cheaper it is likely to be.
Below are four of the most reliable ways to find housing.
(If you're only in the city for a couple of days, then you can ignore this section, and use Hostel World for hostels, booking.com for hotels etc.)
Airbnb Medellin
This is by far the most convenient way to find housing before you arrive in Medellin, since you'll be able to read reviews, message the host, research the location and have a place sorted before you step onto Colombian soil.
However, you will likely pay extra for this convenience as Airbnb tends to work out as the most expensive way to find short to long-term accommodation. The good news is that most hosts offer weekly or monthly discounts if you pay for your entire stay in the one booking. Once you arrive at the accommodation, you can cut out the middleman (Airbnb) and negotiate directly with the host if you're looking to extend your stay.
CompartoApto
Most foreigners who arrive in Medellin aren't even aware of CompartoApto. If you are brave enough to navigate the website in Spanish, it's likely to pay off as rooms on this site are generally a lot cheaper than those listed on Airbnb.
Simply create a free account, fill out your profile and use the map function to see what's available in the neighborhood you wish to stay in. You can find rooms ranging from $175-$350/month and more often than not, the price will reflect the quality of the room.
Unfortunately, most advertisements on this site are for rooms in a shared house, rather than entire apartments. You are typically required to stay of a minimum of 1 month, but sometimes it can be longer than that. Depending on the area, you could be living with local Colombians, or foreigners.
Protip: Pay $5 to upgrade to a premium membership for one week, and your inbox will be flooded with offers from people who are renting places. From past experience, it's a solid investment.
Facebook Groups
If you aren't using Facebook groups, then you're missing out on a goldmine of information about Medellin. Not only can you find accommodation here, but FB groups is where you'll find a solid community of Colombians and expats posting about a variety of services. The best groups are Medellin Expats, Digital Nomads in Medellin and Colombians and Expats of Medellín.
Going to the building itself
If you are in town, you can literally walk to the building that you like (or just walk up and down a street you like, stopping at each building) and ask the porteria (front desk) if there are any furnished apartments (apartamentos amoblados) available to rent. This is how our CEO, Connor, found an apartment he lived at for over a year, saving him ~40% over what he would have paid for a similar place on Airbnb.
Food in Medellin
One of our favorite things about Medellin is the fact that you can eat out every day, and it won't break the bank.
Let's talk lunch.
Many restaurants and some cafes tend to offer a "menu of the day" (menú del día), which is a set lunch menu that is usually available from 12pm-4pm every day. The menu typically consists of a soup, lunch (most have a vegetarian option), a juice and sometimes, even a little dessert.  All of this for as little as $3-$5. Normally, the food is "comida tipica" (local Colombian dishes).
For dinner, there are an abundance of options to fit whatever budget you are on. A delicious meal in a mid-level restaurant costs around $11, and for a more upscale place, you can expect to pay around $25 or more per person.
Transport in Medellin
Metro
Not only is public transport reliable in Medellin, but it's likely to be the cheapest of any other city you've visited.
One of the best things about living in Medellin is that fact that you can get pretty much anywhere you need to go by using the city's metro (except in Poblado, where the metro stop is on the edge of that area, and you'll need to walk 10-15 minutes to get to the main areas). If you're not staying close to a metro stop, then simply wave down a city bus heading to the metro and buy an "integrado" ticket for $1. This fare includes your bus and metro ticket.
The metro itself has two lines and will get you to most of the major sites and attractions in the city. A one-way ticket on the metro will set you back 70 cent.
Bus
As mentioned before, if you don't live within walking distance to the metro, then you can take a metro bus (normally green) to your closest metro station. If you buy an "integrado" ticket, then this ticket will include your metro & bus fare.
You can also wave down most private buses that pass you. The fare is normally about 70 cent, and the price and destinations are always listed on the front windscreen
Taxi & Uber
Let's say you want a more convenient way to get around, or you're traveling after dark.
Taking a taxi or an Uber is an extremely cost-effective way to get around. Both are stupid cheap, frankly – a 20-30 minute ride across town will cost around $4-$5. Taxis and Ubers have similar prices, although Uber seems to cheaper for long distance trips.
You can also use EasyTaxi, an Uber-like app, to call a taxi. This is perfect when you are in an area where there aren't many Ubers.
Sidenote: Uber is illegal in Colombia, which doesn't stop thousands of people who use it on a daily basis. However, if you take an Uber then the driver will likely ask you to sit in the front seat to avoid being noticed by the police. We'd recommend getting directly into the front seat and greeting your driver as if they were a friend picking you up.
Nightlife in Medellin
If you like to party, then Medellin can be a dangerous place to visit.
Dangerous in the sense that you probably won't want to leave once you experience your first weekend in the valley.
Paisas (people from Antioquia, the state Medellin is in) have a solid reputation for partying, so whether you are looking for electronic music, a rock bar, or something typically more Colombian like a Salsa bar, Medellin will have something for you. Many locals go to "Fondas" which are "crossover" – meaning they play everything from Salsa to Reggaeton to Vallenato.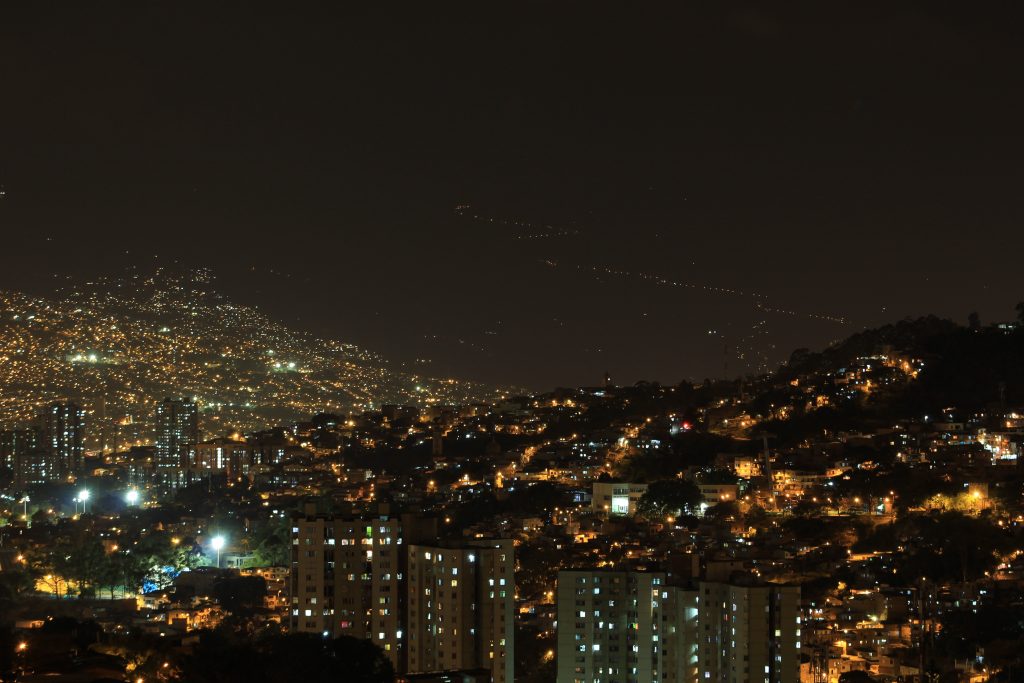 Where can you find the best nightlife in Medellin?
Honestly, it depends what you are looking for.
As mentioned before, the El Poblado neighborhood is where you will find the majority of nightlife in Medellin, more specifically in Parque Lleras which is the "zona rosa" and host to a gazillion clubs and restaurants, all in one concentrated area. This means that everything is within walking distance, and so you can easily spend the night bar-hopping.
Parts of this area are pretty grim though, since it has the highest density of hookers and drunk tourists in the entire city (but still plenty of normal locals, too).
Of course, as much as we like Medellin's zona rosa, you should try to leave the El Poblado area once in a while, in search of a more authentic experience.
If you prefer to party with more Colombians and fewer tourists, then it's best to make your way to a well known Salsa bar such as "Son Havana" or "Tiburi", both of which are located in the Estadio neighborhood. Here is where you'll also find the famous La 70 street, which has a ton of traditional Colombian bars, and very few (if any) tourists.
Although it's not very common, some clubs in Medellin (especially in El Poblado) have a cover charge of $3-$10 for men, while women tend to go in for free.
Average costs for a night out:
A local beer, $1.50-$2
A single rum and cola, $4
700ml bottle of Medellin rum, $35
700ml bottle of Aguardiente (the local liquor – just like Mexico has tequila, Colombia has Aguardiente. It's a bit lower in alcohol and has an anise flavor), $25
These costs are a (super) rough guide. Like any other city, the classier the place, the more expensive it will be.
Don't be surprised if you go to a fancy place, that looks like a western style club and then pay US-like prices.
Health and Fitness in Medellin
While Salsa dancing will help you burn a couple of calories, you may want to maintain your regular fitness routine while in Medellin.
There are a number of ways to keep fit in Medellin – both for free and for a modest cost.
Yoga
Flying Treehouse Yoga: A yoga studio which has several classes on a daily basis from Monday to Saturday and is located in Laureles. You can find classes for $10/hr, or receive a discounted rate if you buy several classes at once.
Commercial Gyms
Powerclub official: Located 5 minutes from our school, this gym emphasizes CrossFit style classes and community, which may make it the perfect place to meet new people and practice your Spanish, all while doing some burpees.
SmartFit: You can find this chain of gyms all around Medellin, including in Unicentro shopping mall which is a 15-minute walk from our school. SmartFit has monthly plans starting at $20USD, not to mention a "roaming" plan which allows members to access any of their locations in the city.
Bodytech: Just like SmartFit, this chain of gyms can be found all over the city – including Rio Sur in El Pobaldo, Belen and Laureles. A one month pass is around $90 but If you're here longer, the one-time membership fee is ~$70, and then ~$55 a month after that. 
360 Fitness: This place is located in Laureles, and has a monthly subscription fee of around $25/month. The basic membership fee includes free boxercise classes, spinning and more. You can pay extra to add in CrossFit style classes.
Open-Air Gyms
Throughout the city, you will come across "prison yard" style gyms which are free for everyone to use and have more than enough to get a solid workout in. One of the best ones is located right next to Estadio metro station, in front of the football stadium.
If you're in El Poblado, then you can find one in between the bar "37 Park" and Provenza.
Unidad Deportiva Atanasio Girardot
Located in the Estadio neighborhood, right next to the football stadium, you'll find an amazing initiative run by INDER which allows anyone in the community (including you) to use the top class sporting facilities for free. This includes Olympic style swimming pools (you must register) and a state-of-the-art running track which you can use for free, without registration.
Trek Cerro Tres Cruces
This short trek is an enjoyable outdoor activity, that doesn't require any planning. Located in the Belén neighborhood, it's essentially a steep walking trail up a hill. Most Uber or taxi drivers should know the starting point, but if not, use Google Maps and go to where the trail connects to calle 8. Expect a 30­-40 minute climb – with stops to catch your breath. On weekends, you'll see people selling fruits and juices on the way. There's an outdoor gym at the top, in case you fancy working out once you finish the trail. On most clear days, the views are breathtaking.
Miscellaneous
Some costs that we didn't mention:
Americano coffee at Juan Valdez, which is like a Colombian Starbucks but better. ($2),
Private Salsa lesson ($15, or cheaper if you buy hours in bulk)
Prepaid Movistar sim card ($3), 2GBs of data which includes some calls and SMS messages ($13/month)
Cine Colombia movie ticket ($4.50 at the weekend, or $2.20 on Tuesday's and Wednesdays).
Cine Colombia food: 2x medium popcorns and 2x medium sodas ($6.50)
Coworking space: Just a couple of blocks from our school is Casa Redonda coworking space, where you can pay for day passes or a monthly pass (ask about prices here).
PS. We didn't list groceries here since the price varies from supermarket to supermarket. Here's our 30-second guide to supermarkets in Medellin: Carulla is essentially a Colombian-style whole foods, and known to be the most expensive place to shop. Jumbo is similar, but not as expensive.  You then have Exito & Euro, which offer pretty "standard" prices for Colombians – the former is located just about everywhere. And finally, we come to D1, which offers the lowest prices of any supermarket – by far. Shopping there will probably save you 30 to 40 percent on similar items in other stores.
__________________________
Learning Spanish in Medellin
At BaseLang Spanish school you can find the best value for Spanish classes in Medellin.
| | | | |
| --- | --- | --- | --- |
| School | Monthly Cost | Format | Class time |
| BaseLang Real World | $599 | Private one-on-one classes | Unlimited |
| BaseLang DELE | $699 | Private one-on-one classes | Unlimited |
| Toucan | $710 (2,200,000 COP) | Group classes, up to 7 students | 20hrs/week |
| Colombia Immersion | $705 (2,185,000 COP) | Group classes, up to 6 students | 20hrs/week |
| Total Spanish | $645 (2,000,000 COP) | Group classes, up to 6 students | 20hrs/week |
(The above calculations are based on the exchange rate 3100COP: $1)
We also offer an intensive 4 week Spanish in a month program, which consists of 4 hours of private Spanish classes per day, Monday through Friday. This program is designed to get students from zero to conversational in a month, guaranteed.
For more details on all of our programs, click here.
_____________
Did we forget to cover something important that you were looking for?
Comment below and we'll add it to the post.