Real World Online: What to Expect In Your First Few Days
Get our free email course, Shortcut to Conversational.
Have conversations faster, understand people when they speak fast, and other tested tips to learn faster.
More info
So, you decided that you want to learn how to speak Spanish, and you've picked our Real World program.
Allow us to take you through what you can expect in your first seven days as a new Real World student
1) Subscribe to Real World for $1.
You get a 7-day trial for $1.
No fine print.
Simply sign up, take a bunch of classes and decide if you think it's worth staying for your first full month. If you don't want to continue after the first week, just cancel with a few clicks.
2) Answer a quick 30-second survey
We'll ask you 3 simple questions so that we can cater to your Spanish learning goal.
For example, a student learning Spanish for travel will have slightly different goals to a student learning Spanish for professional reasons.
Likewise, it helps if we know where you are in your Spanish journey – be it a complete beginner, advanced or in between, we cater to all levels.
Based on your answers, you'll get a short video from our CEO Connor, who will give you advice on how to get the most out of BaseLang given your level, and then give you a quick tour of the online platform.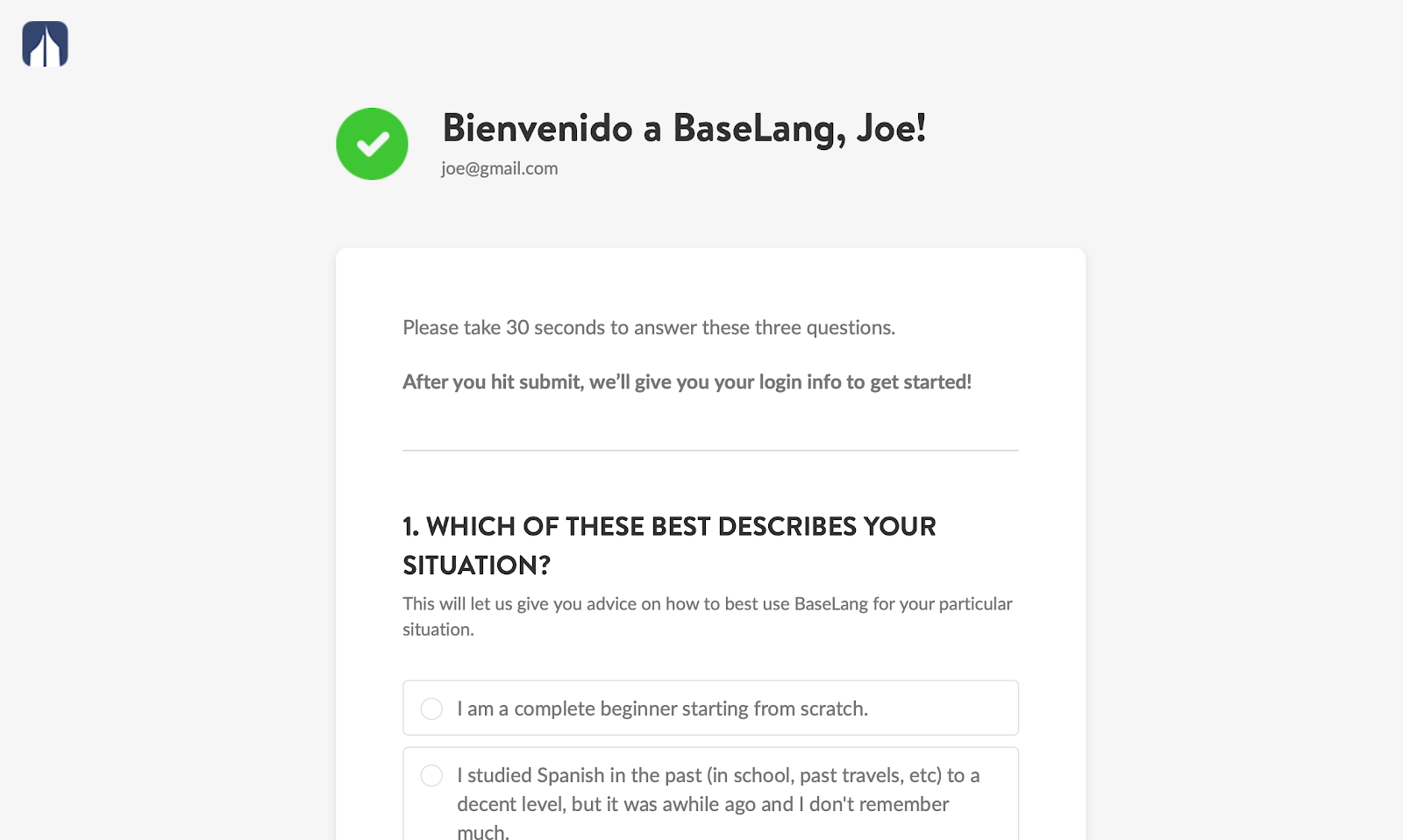 3) Log into our platform for the first time
When you log in, the first thing you will see is your personalized dashboard.
This is where you can access the Real World curriculum, study electives (based on your interests), view teacher bios, track your progress and more.
At this point, you'll be reminded to download Zoom, which is a free video-calling platform (similar to Skype) that we use for online classes. Once the app downloads and you've created your free Zoom account, all you'll need to do is add your Zoom account's email to the basic info section before your first class.
P.S. You can click the little icon at the bottom corner to open a live chat if you have any questions whatsoever, and you'll almost always get a response within 5 minutes :)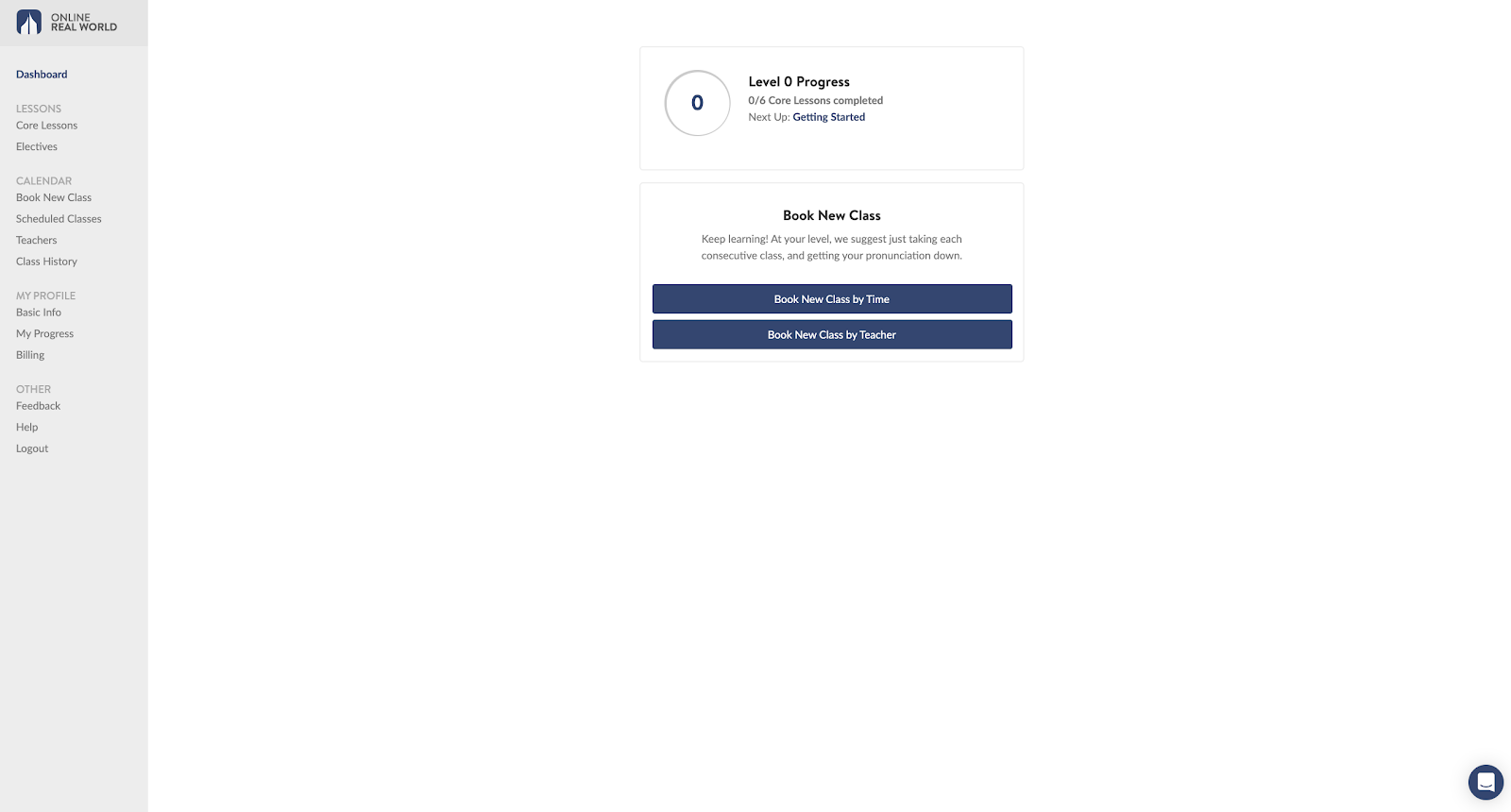 4) Browse the teacher bios
It's natural that you'll click better with some teachers than others – due to similar interests, personalities, age etc.
Before your first class, you can browse the teacher bios to gauge which teacher you think will be a good fit. To make things easier, we allow you to filter teachers based on their interests, level of English, teaching style and more.
However, our advice is to pick whatever teacher is available, and do your first session right away. It's best to not get bogged down in the teacher selection process for too long.
P.S. You'll notice some pop-ups in the corner, with tips from me about how to get the most out of the platform.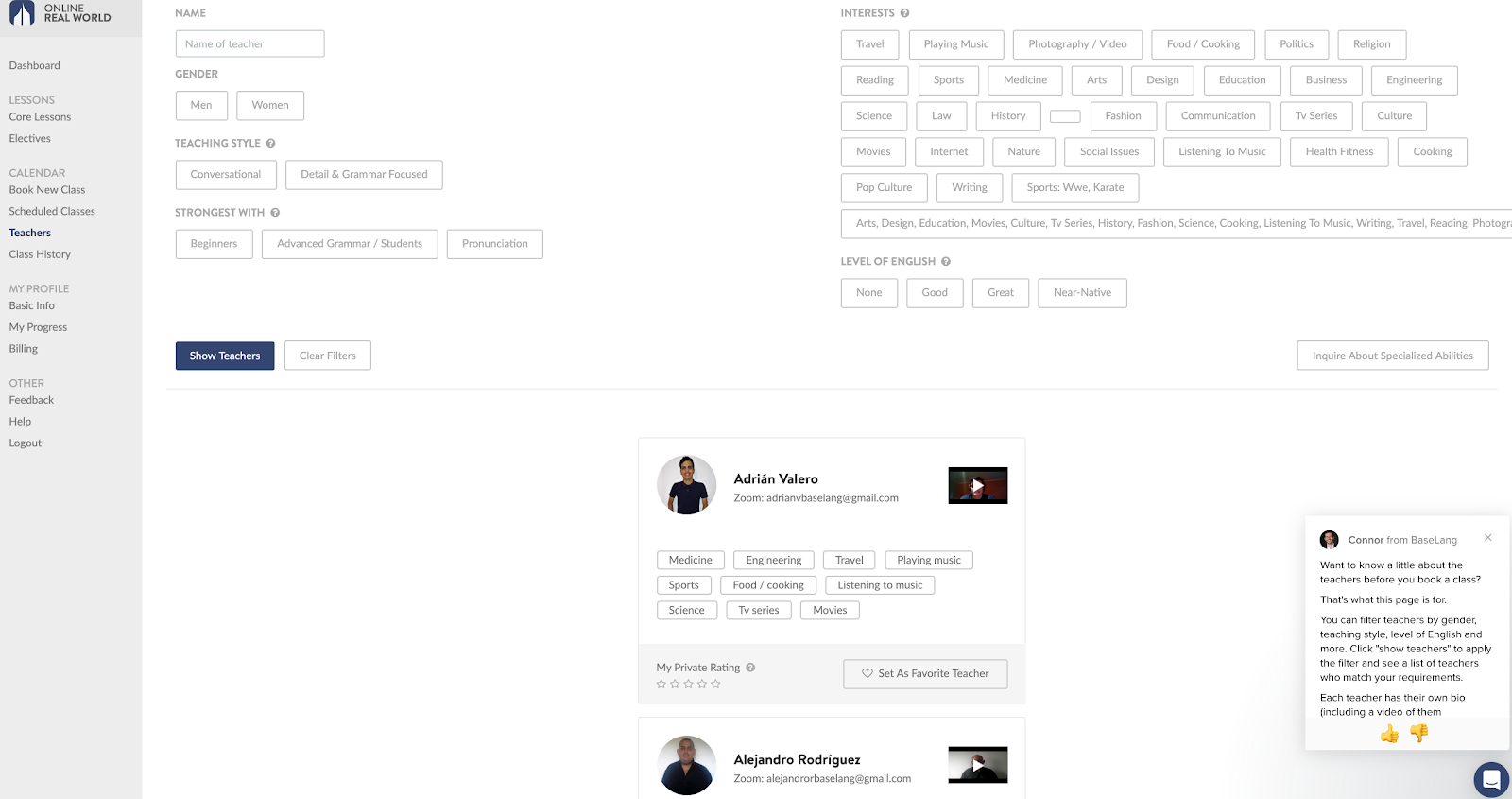 5) The exciting part – scheduling your first class
This is where the magic happens.
By now, you have viewed a couple of teacher bios and have an idea of who you'd like to take your first class with. Again, don't worry too much about your choice, trial and error is the best way to find a teacher you click with.
You should try to schedule your first class as soon as possible. You can explore the platform, but don't make the mistake of thinking that you need to familiarize yourself with the lessons, or "build a base". There's nothing you need to do before your start classes.
We recommend scheduling an hour-long class for your first one.
We recommend scheduling a bunch of classes, with several teachers and over time, you'll naturally discover your favorite teachers with whom you'll be able to regularly take classes with.
When booking a class, you can choose to book by time, or by book by teacher.
P.S. our teachers have access to an internal progress sheet on each student, which means that you can take classes with multiple teachers. They will pick up where the last teacher left off.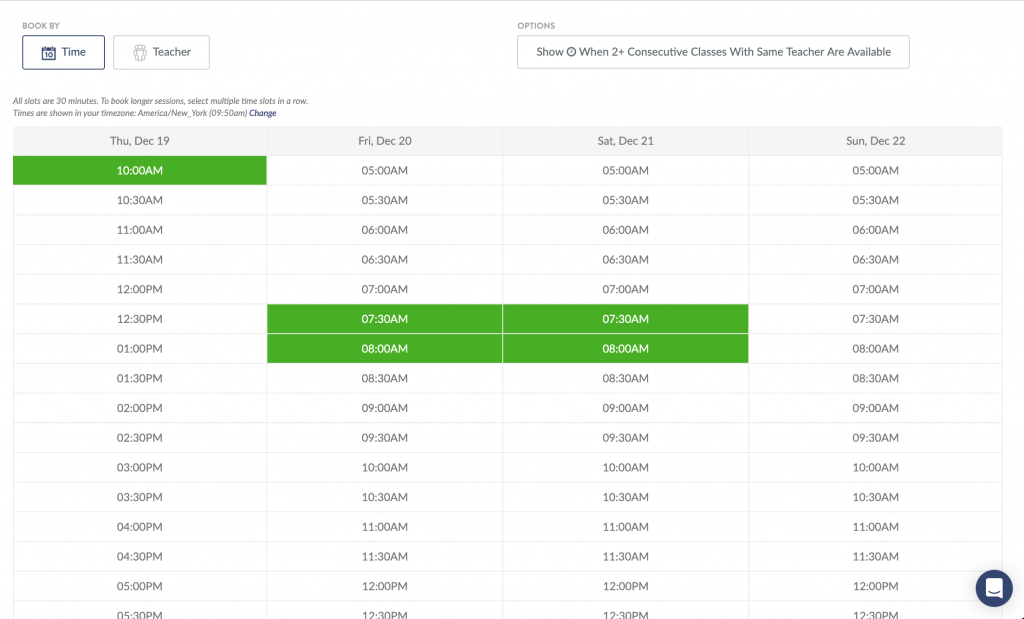 6) Class confirmed
Once you complete the scheduling process, you'll see the class confirmed on your dashboard, and also receive an email confirming the class time.
You can also keep an eye on Zoom, as your teacher will send you a contact request (this only happens for your first class with each teacher). You can also send them a contact request ahead of time, if you prefer.
7) It's time for your Spanish class on Zoom – what happens?
This is very simple.
When it's time for your class, simply log into the platform five minutes before your scheduled class.
You'll also need to open the Zoom application so that your teacher can call you.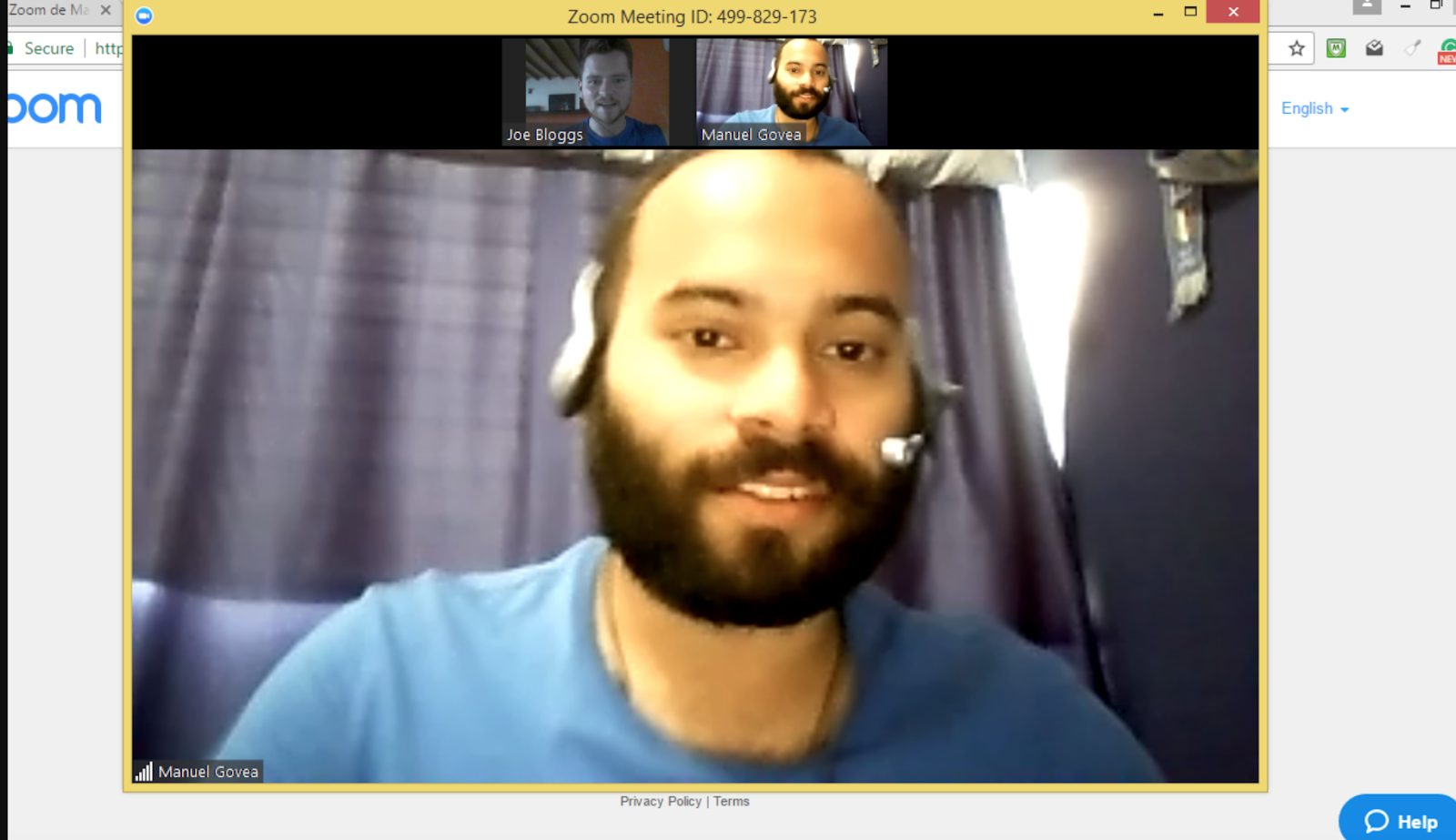 8) Progressing through the curriculum
In your first class, your teacher will give you a short verbal placement test to decide where in the curriculum you should start. They will do this through a quick conversation with you – it's not a formal written test.
If you're a complete beginner, then you'll start with on level 0. If you're more advanced, then your teacher will decide which level you should start with.
There are 10 levels in the curriculum, 0 through 9:
Level 0 is survival Spanish, which is exactly how it sounds – words and phrases for getting by.
Levels 1-3 are basic. This is where we'll give you the fundamental building blocks of Spanish grammar, and the most important vocabulary.
Levels 4-6 are intermediate. This is where you'll get the rest of the most used grammar. It's also where we will start loading up on more vocabulary.
Level 7-9 are advanced. This is where you will get the last bits of grammar and vocabulary.
While the curriculum is there and the vast majority of students use it, you don't have to. You're in control each class.
9) Extra study material
To help you memorize new vocabulary and grammar conjugations on each level, you'll have free access to our custom flashcards, so that you can study the exact vocabulary recommended (each word is specifically selected based on usefulness).
All flashcards come with a sound recording from a native speaker, so you can practice your pronunciation.
10) Tracking your progress
In the My Progress section, you will see your BaseLang Level which is a representation of your fluency. This score is based on the number of lessons completed at each level.
You can read more about our progression system here.

________________
Sign up to Real World today, and start your 7-day trial for only $1.
Click here to read about the differences between our Real World vs Grammarless programs.
Click here to read an FAQ on our Grammarless online program.
You can read reviews for current and past students here.