How I Broke Through My Spanish Plateau #BaseLangStories
Get our free email course, Shortcut to Conversational.
Have conversations faster, understand people when they speak fast, and other tested tips to learn faster.
More info
Meet Tanisha, a BaseLang student who was stuck at an intermediate level until our DELE program helped her breakthrough her Spanish plateau.
(ps. our DELE program is available as an upgrade option for all Real World students)
#BaseLangStories series puts the spotlight on BaseLang students – asking them about their motivations for learning a foreign language, what impact learning Spanish has had on their lives, advice they have for fellow students, and more.
Can you tell us a bit about yourself?
Hola! My name is Tanisha. I'm 30 years old and originally from Philadelphia, PA (United States) but I'm currently living in Medellín, Colombia.
Why did you want to learn Spanish?
Spanish was always the language that I wanted to learn.
I was lucky enough to grow up in a really diverse neighborhood where there were many people from all over Latin America. I started to take classes in high school and college but I didn't take it seriously because what I was learning never really helped me when it came to trying to converse with my Spanish-speaking friends.
About 5 years ago, I decided to get my Master's degree in Occupational Therapy and that's when I realized that I really need to know Spanish. Not only was it a personal goal, but as a rehabilitation specialist, I felt that I needed to be able to communicate with the growing body of Spanish speaking patients in the US.
Another reason I wanted to learn Spanish is because traveling is a big part of my life and I wanted the freedom to not just visit as a tourist, but to live and work in different parts of central and south America.
In the past, what did you use to learn Spanish?
I've used everything from private tutors to taking classes at a school in Medellín, to online resources and studying by myself. These methods did work and helped me to go from super basic survival Spanish to a beginner-intermediate level, but once I got to that (B1) level, I stayed there for a while.
I just felt stuck there and nothing seemed to be working anymore.
Before BaseLang, which part of learning Spanish did you struggle with the most?
I struggled mostly with grammar. I could always figure out a way to get what I wanted to say across during a conversation but usually whatever came out of my mouth was not pretty and far from grammatically correct.
I felt like my learning was all over the place and I had no real structure. That affected my confidence a lot. I also struggled with understanding people. I was definitely a "yeser". You know, when you just shake your head and say "sí, sí" to everything someone says to make it seem like you understand but you really have no idea what they just said? That was definitely me.
Reading and writing in Spanish was also something I tried my best to avoid. I guess you could say I struggled with all aspects of the language!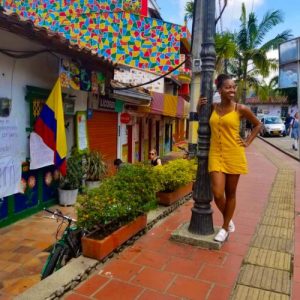 What obstacle would have prevented you from signing up for BaseLang before?
The fact that everything is online definitely scared me. I had a couple of experiences with online classes in college and it didn't end well! But those were classes with hundreds of students and we barely knew our professor. BaseLang is definitely not that.
What did you find as a result of signing up?
I found out that all the classes are one on one and that they're tailored to me! We work on so many different aspects of the language.
When I'm in class, I honestly feel like I'm spending time with a friend who just so happens to be a really good teacher.
What specific feature did you like the most about the DELE program?
I like the structure of the DELE program. The DELE lectures are divided up into reading, writing, listening and speaking assignments so it really addresses all those areas I struggled with so much. It's really helpful that the audios in the listening lectures have different Spanish accents to listen to so I never feel like I'm getting used to one specific Spanish accent.
Also, my teachers give me really good tips for the exam! When I started BaseLang almost five months ago, I only planned to take the exam at the B2 (high intermediate) level, but after encouragement from my team of teachers and a lot of time in class, I'm studying to take the exam at the C1 (advanced) level! I still can't believe that I got to this point. Each day I am feeling more and more ready. I also really like the flexibility of the program. I don't have to practice DELE all the time just because I'm in the DELE program. There are grammar slides, electives where I can catch up on medical terms, or sometimes we just have long conversations.
My teachers take note of the different areas that I struggle with during our conversations and then they make sure we work on those areas. One last thing, I promise! I also love the variety of teachers. I have my team that I schedule regularly and I honestly love them all!
They come with different accents and teaching strategies. They are all so patient and encouraging. It's honestly hard to pick between them.
How has learning Spanish impacted your life?
Spanish has impacted my life in so many different ways. It has given me opportunities to live and work abroad, to meet a lot of new people from different cultures and maintain friendships with them, and the ability to treat my patients in Spanish which makes me more marketable in my field. The doors are still opening for me and I'm beyond excited that I am so close to being able to say, "soy bilingüe".
That is something that means so much to me!
Would you recommend this course, if so, why?
I would for sure recommend BaseLang for all levels, but especially for anyone feeling stuck at a particular level.
I honestly haven't seen any other program quite like this one; with unlimited hours to practice, a DELE program, and this big of a variety of different teachers. It has really exceeded my expectations and I've progressed much faster than I thought I would. Learning a language is not easy and full immersion of the language is probably the fastest way to learn, but not everyone can get up and leave to go live in another country.
BaseLang is a way to immerse yourself from home because you literally have access to practicing at any hour of the day. It's just up to you to decide how much time you want to put into it. I also recommend it because it really works well if you want more of a collaborative approach to learning the language as opposed to just going with the standard curriculum and doing whatever you're told to do.
Anything else to add (advice for other students, what you wish you had known beforehand) etc?
I wish someone would have told me this when I started. Be patient and kind with yourself during this journey!
The first time you learn a new language, especially as an adult, you are using and stretching your brain in a way that it has never been used or stretched before. It's so easy to get frustrated, especially when you feel like you just can't see your progress as much as you did in the very beginning. Learning a language requires commitment to get to a point where you really feel comfortable using it, and even at that point, there will still be so much more to learn!
Find what works for you and keep at it. I truly think you can find what you need in this program whether you are just beginning or whether you've been at it for a while and want to see yourself get to the next level.  I can bet that least one of the teachers is bound to teach you in a way that really clicks with the way you learn best!
A very sincere thank you to all of my BaseLang teachers, especially my team of regulars: Karina Sánchez, Lucía Barrios, Alonzo Pérez, Ángel Ramírez, Stefanny Landaeta, Mineudis Rosillo, Tulio Farías, and Edwin Rodríguez. Thank you so much for being a part of this journey for me and many others! Please know that your patience and encouragement mean the world to me! You all deserve so much credit.
Best of luck to all the future and current BaseLang students! We got this!
____
Want to read more #BaseLang students?