Things To Do In Medellin: 5 Free Activities To Add To Your List
Get our free email course, Shortcut to Conversational.
Have conversations faster, understand people when they speak fast, and other tested tips to learn faster.
More info
Whether you are living in the city of eternal spring, or simply visiting for a couple of days, you won't be short of things to do in Medellin on any given weekend.
In this post, I'll list some of my favorite things to do, almost all of which are free or come at a modest cost.
Let's dive in.
1) Free Walking Tour
It's no secret that Medellin tourism is booming these days, and despite the fact that new tour companies are popping up left, right and center, my favorite tour is still the Real City Walking Tour, which has been around for a couple of years now.
In fact, whenever I have friends or family visiting the city, I make it my mission that this tour is the first thing on their itinerary.
So what makes this my number 1 recommendation?
Well, this 4-hour tour will give you a crash course on the history of Medellin – warts and all.
You will hear about the good side of Medellin, and the not so good side, from local paisa people who have their own experience of both.
The tour itself takes place in El Centro, which is a part of the city that I wouldn't recommend spending too much time in – or at night time, no time at all. If you're not familiar with El Centro, then we recommend doing this tour as you'll be given a good introduction to where you should and shouldn't go, not to mention seeing some beautiful architecture along the way (see, it's not all bad).
Normally this tour has a morning and afternoon slot, but places fill up quickly, so you'll need to use this link to book your spot in advance.
The 2nd neighborhood walking tour that should be on everyone's to-do list is in La Comuna 13.
La Comuna 13 has become an important symbol of change in Medellin.
Once considered the most dangerous neighborhood in the city, these days you will find a community transformed by social projects, which as a result, is now a tourist hotbed, famous for its outdoor escalators and world-class graffiti.
Despite its newfound fame, this is still one of the most authentic experiences you'll find in Medellin.
On this tour, you'll hear from locals who explain how music and art have played a role in this incredible transformation.
I can personally recommend this tour, which uses local guides who'll tell you all about the history of their neighborhood, their personal stories, explain the significance of the murals, and of course, bring you on the famous outdoor escalator.
In fact, we are such big fans of what the locals are doing at Comuna 13, that every Saturday we take a group of students from our Medellin Spanish school to do a tour and learn more about a side of the city that not everyone knows.
Cost: Free (tip-based)
2) Visit Plaza Botero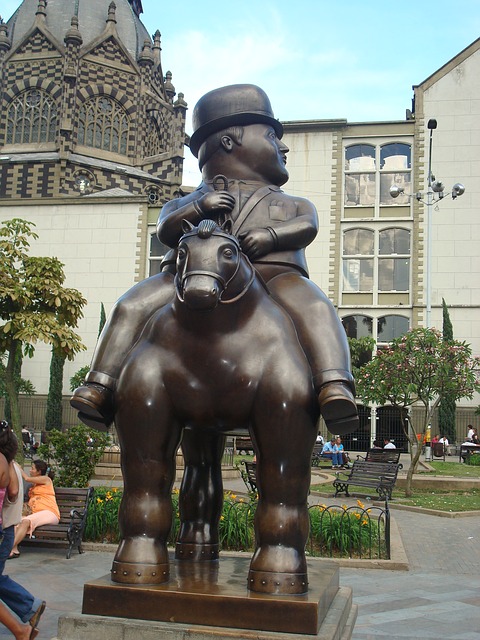 Plaza Botero is where you can find the work from one of Colombia's most famous exports, Medellin-born sculptor Fernando Botero.
His unique "Boterismo" style depicts figures in large, exaggerated states and you can find these sculptures all over the world – including Barcelona, Madrid, Singapore, and Israel, to name a few.
Plaza Botero is where you can see 23 sculptures from Botero, which he donated to the city, along with other work that can be found in "El Museo de Antioquia" just in front of the plaza. The plaza is located in El Centro, and is easily reached by grabbing the metro to the nearby "Parque Berrio" station.
As I said before, El Centro isn't somewhere you should spend a long time, but it is perfectly safe to walk around Plaza Botero during the day.
You'll pass Plaza Botero if you take the Real City Walking tour mentioned above.
Cost: Free
3) Watch Sunset at Pueblito Paisa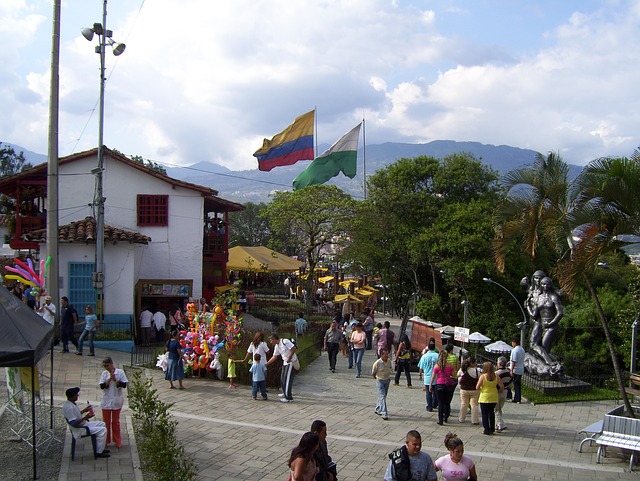 El Pueblito Paisa (little town) is a replica of a typical Antioquian town located on the top of Cerro Nutibara hill.
This picturesque town is the perfect way to spend a couple of hours, eating traditional Antioquian food, learning about the history of Medellin – and of course, taking in a 360-degree view of Medellin.
If you're fit enough, you can actually hike from the bottom, all the way up.
However, it's probably best to take an Uber or taxi if you want to save your legs for dancing Salsa the same night.
Make sure to plan your visit around sunset for some incredible views.
Cost: Free
4) Exercise at Sunday's Ciclovia
In case you haven't already noticed, Medellin locals take their fitness seriously.
One of the best ways to spend a Sunday is by taking advantage of Medellin's Ciclovia.
The direct translation of "ciclovia" means "bicycle lane", but the actual initiative entails closing many of the main streets in Medellin every Sunday (and bank holiday Mondays) so that the locals can walk, run or cycle on the roads that would normally be bumper to bumper with traffic.
For local paisas, this tends to be a family day out, with children, grandparents and everyone between taking part (including pets).
It is believed that over 100,000 people take place in the ciclovia every Sunday, which runs from 7am to 1pm.
Along the route, you'll notice people selling delicious juices, quick bites, and more.
On several occasions, I even noticed a Salsa class taking place at the side of the road – you gotta love Colombia!
Cost: Free
5) Explore Jardín Botánico
If you are looking for a lazy afternoon, then look no further than El Jardín Botánico, a 14-hectare botanical garden, and the biggest green area in Medellín.
You've probably already heard that Colombia is the second-highest biodiversity country in the world (after Brazil), and it is said that these botanical gardens host over 4500 different flowers, over 100 different birds.
It's free to enter the gardens, where normally you'll see a ton of families and students having picnics, relaxing in the green, or just strolling around.
Look out for the "Orquideorama José Jerónimo Triana", which is a giant metal structure shaped like flowers.
In fact, I'd recommend keeping an eye on Jardin Botanico's website, where they publish their calendar of events which often festivals, or even live concerts that often take place at the giant butterfly.
Cost: Free
________
Do you want to learn Spanish in Medellin?
At our Spanish school in Laureles, you can take your first day of classes for only $1.
_________
Medellin Spanish Slang: 83 Words To Make You Sound Like A Paisa